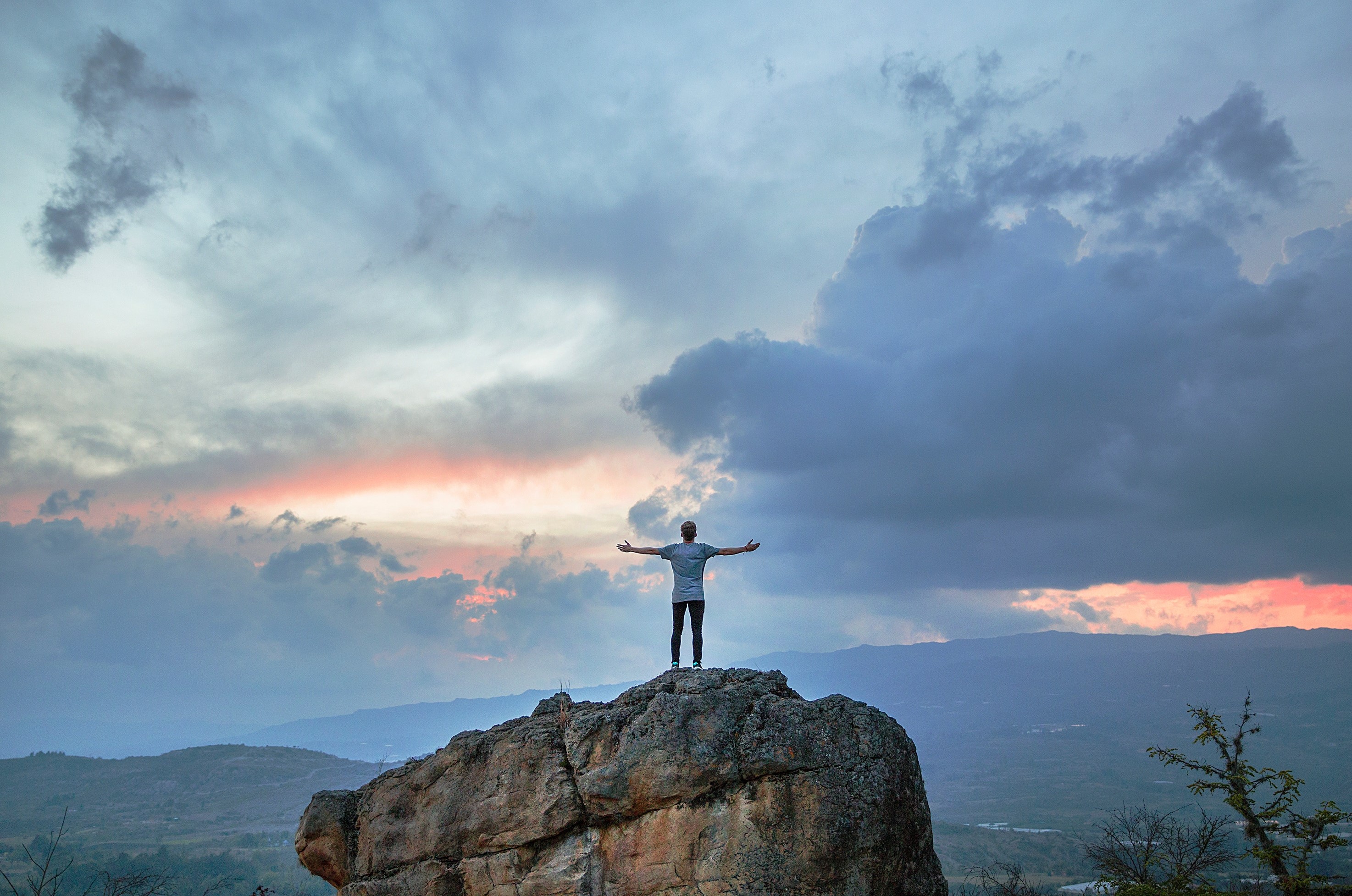 Friends, God has a wonderful and beautiful plan for your life! Do you really believe that? It's true.
"For I know the thoughts that I think toward you, says the LORD, thoughts of peace and not of evil, to give you a future and a hope. Then you will call upon Me and go and pray to Me, and I will listen to you. And you will seek Me and find Me, when you search for Me with all your heart." Jeremiah 29:11-13 NKJV
Father God has good thoughts towards you. No matter how you feel about yourself, He loves you. No matter what others think about you (in the end that never matters), He loves you. No matter what your past looks like, He loves you.
God doesn't simply have an attribute of love—He IS the very essence of love.
"He who does not love does not know God, for God is love." I John 4:8 NKJV
The most fundamental and most important thing that we need to wake up thinking about and go to be dreaming about, is His incredible love for you. It's one thing to know Father loves you and it's another thing to receive His love. It's what is called, living loved.
Jude 1:21 tells us to, "keep yourselves in the love of God…"
Beloved, His thoughts toward us are good and full of love.
"O LORD, You have searched me and known me. You know my sitting down and my rising up; You understand my thought afar off. You comprehend my path and my lying down, And are acquainted with all my ways. For there is not a word on my tongue, But behold, O LORD, You know it altogether. You have hedged me behind and before, And laid Your hand upon me. Such knowledge is too wonderful for me; It is high, I cannot attain it. For You formed my inward parts; You covered me in my mother's womb. I will praise You, for I am fearfully and wonderfully made; Marvelous are Your works, And that my soul knows very well. My frame was not hidden from You, When I was made in secret, And skillfully wrought in the lowest parts of the earth. Your eyes saw my substance, being yet unformed. And in Your book they all were written, The days fashioned for me, When as yet there were none of them. How precious also are Your thoughts to me, O God! How great is the sum of them! If I should count them, they would be more in number than the sand; When I awake, I am still with You." Psalms 139:1-6, 13-18 NKJV
We each have a future and a hope in God and this future is NOT for you to go through your entire life feeling distant from God with little joy, little peace, little blessing, etc. This is not your future no matter what you are facing right now.
I am concerned that many Believers only understand the first part of John 10:10, "The thief does not come except to steal, kill and destroy…" And that's where they live most of their lives. And I am declaring today that it's time for every one of us to be set free and to walk in victory! The rest of John 10:10 says, "…I have come that they may have life, and that they may have it more abundantly" This is the place of joy, victory, blessing, freedom and the like! This is victory—living in what Jesus has provided for us. Because of what Jesus did for each one of us, He's expecting us to walk in the victory He's already provided for us.
Friends, we are supposed to be walking in freedom (from what? Our past, habitual sins, etc.), walking in joy, walking in incredible peace in our minds, living in the love of the Father, receiving blessings and divine appointments and so on.
You see, we must choose to walk in victory. We must choose to walk in joy. We must choose to let go of our past. We must choose to walk in Father's love.
You must get to the point in your life where you say, enough is enough. I am going to grow in God and not let my finances dictate the level of my joy but instead give thanks in all circumstances. I am not going to let this pain in my body keep me from worshipping Jesus, for I WILL bless the Lord at all times, His praise shall continually be in my mouth. I am not going to let the people in my life affect the way I live before God with all my heart. I will pray for you but I'm not into your drama. I am not going to let my past define who I am today, I am clean, washed in the blood, forgiven and free.
You and I have the Word of God and the Holy Spirit living inside of us. So, knowing this, we are set up for success and therefore we do not have to live in defeat, oppression, depression, turmoil, anger, disappointment, frustration, confusion, stress, anxiety, fear, etc…
Let's look at the last part of our text in Jeremiah again:
"…Then you will call upon Me and go and pray to Me, and I will listen to you. And you will seek Me and find Me, when you search for Me with all your heart."
You and I can really, really find God! And when we find Him, it changes everything. And believe me…the enemy doesn't want you to "find God", so he will do whatever it takes to keep you chasing your tail, blaming others, living in your past, depressed by your bills, living overwhelmed in your heart and mind by life…day after day, year after year…
You see, all these negative things that I have brought up is the enemy's plan to keep you out of God's presence and the feeling of being distant from His heart. So, the truth of the matter is, YOU must have your own encounter. You MUST experience God for yourself. YOU!
The most important decision in your life right now if you want to walk in victory is: Am I going to live a life of seeking the Lord with all my heart?
Ryan Bruss, Director
Also, be sure to catch this week's episode of It's Supernatural! Kevin Zadai shares how the angels are sent to help fulfill what is written about you in heaven. God really does know the plans He has for you! So do them!